| | |
| --- | --- |
| | |
| | |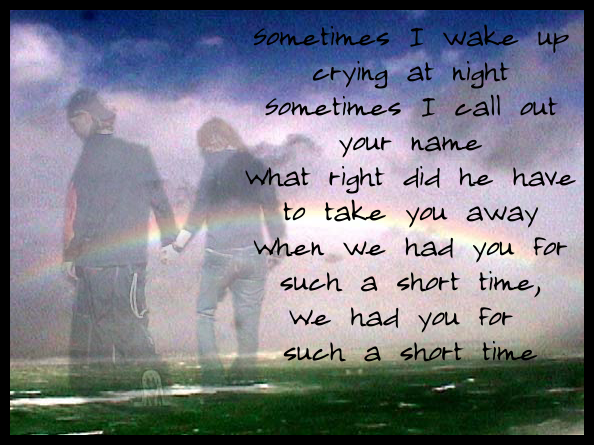 Just a dream away

I would give my life to have you back,
said the Mom
I know you would, said her child.
I cry each night for you, said the Mom
And I catch all of your tears said her child
I pray for the day that I can see you again,
said the Mom
Close your eyes and you can see me,
said her child
I am always just a dream away.............

You are the first person who loved me,
and you are the first person I loved.
You were always there when I needed you,
and you always knew when I needed a hug.
I am here for you now, mom
in your heart and in your soul.
I did not take your heart with me
instead I left mine with you to hold.
One day I will take your hand
and lead you to paradise,
but until then my beautiful mother,
when you want to see me
you only need to close your eyes.

I am always just a dream away.....

written with love
in the memory of
Holli Nicole Crockett
by
Tammy Crockett
2007






This memorial web site
was created with all of our
love and heartbreak
for our beautiful daughter,
Holli Nicole Crockett
who was born in Louisiana on
February 09,1985 and
passed away on April 09, 2006
at the age of 21 years
2 months.
♥We will remember her forever.♥

This picture was made possible by the help of these people and these are their web pages
http://www.angelfire.com/tx2/aras/index.html
http://www.angelfire.com/tx2/aras/markduncan.html
http://www.angelfire.com/tx2/aras/markwhendy.html

♥ Please light a memorial candle in memory of Holli...♥
to let us know you visited




Holli's guestbook


Holli's first Christmas in Heaven


Holli's Calendar

Please add your Angels dates to our calendar
so that I can light a candle for you.




So I've been told

It's been a year now, it's over she's gone,
Why are you still crying, it's time to move on.

She's in a better place, is happy and free.
You are still obsessing, why can't you see.

So I've been told.

You never thought about her this much
when she was here,
And now when I see you, I only see tears.

She is not in the ground, she is high in the sky
why do you still go there, why, why, why

So I've been told.......


How can I make them understand,
how can I make them see,
how much I love her and
how much she means to me.

I know it's been a year already,
that it's over and she's gone,
My mind tells me that daily,
but my heart tells me it's all wrong.

Tell me how to get over it and quit all the crying
When each day I wake up,
all I can think about is her dying.

I know she's happy, safe and free,
I may be selfish, I still want her here with me.

No, I didn't think about her this much
when she was here,
I could see her and hug her and laughter is what caused my tears.

But her memory is all I have now
to get me through the day.
the look of her face, the sound of her voice,
what more can I say.

I know she is not in the ground,
but that is all that I have,
I am close to her when I am there
and I don't feel so sad.

She finds a way to give me a hug
and a kiss in the wind,
I hear her talking to me,
I just close my eyes and pretend.

This is my life now, how can I make you see,
You don't have to understand me,
just love me for me.
~~~~~~~~~~~~~~~
written in loving memory of Holli by
her mom




first day of kindergarten~~so sweet


When We Ask Why
by Perry Tanksley©W-216

God's beautiful plan
Is sometimes concealed,
But someday His purpose
Will be fully revealed.

Someday God's wisdom
Will make it very plain
Why problems were permitted
And how He uses pain.

Things thought illogical-
Disease, tragedy, fear-
Will someday make sense
When God makes all things clear.

We'll see the Lord's purpose
From Heaven's point of view,
And we will understand
In ways we never knew.

Till we are home with God
Some answers have to wait.
"Lord, we'll TRUST AND OBEY.
Lord, help us walk by faith."



Thank you my Good friend Stu
You are truly a gift from God.

RINGS IN HER HAIR
An Irish Prose written for Holli

I dreamt I was walking,
upon a green meadow,
the heather would gracefully,
bend without care.
Twas then that I saw her,
a lovely young maiden,
a lovely young maiden,
with rings in her hair.

She danced and she moved,
her grace unabated,
her smile and her beauty,
were without compare.
And as I approached her,
she asked me "come hither."
This lovely young maiden,
with rings in her hair.

Twas then that I noticed,
The maiden was Holli.
She looked in my eyes,
with a questioning stare.
The sun shone around her,
her movements so graceful,
as I caught a glimpse,
of the rings in her hair.

She sweetly said, "Sir ..
tisn't your time to be here ..
to walk these fair meadows ..
that Heaven does share."
And as she approached me,
her hand out to offer,
a token of caring,
a ring from her hair.

"Sir when you return ..
tell all those who love me ..
of this lovely meadow ..
I'll wait for them here."
A kiss on my cheek,
and a touch of her hand,
she turned and she left me,
with a ring from her hair.

I suddenly woke up,
alone in my bedroom,
but vivid were visions,
of sweet Holli so fair.
Was it just a dream,
or did I really visit,
and there in my hand .. was
a ring from her hair.
copyright 2006 stubearmusic





You can shed tears that she is gone
or you can smile because she has lived

You can close your eyes
and pray that she'll come back
or you can open your eyes
and see all that she's left

Your heart can be empty
because you can't see her
or you can be full of the loved you shared

You can turn your back on
tomorrow and live yesterday
or you can be happy for
tomorrow because of yesterday

You can remember her and
only that she's gone
or you can cherish her
memory and let it live on

You can cry and close your mind
be empty and turn your back
or you can do what she'd want
smile, open your eyes, love and go on




http://www.jojo.pets-memories.com/index.php

Holli's last birthday present
was a bassett Hound named JoJo
who thinks my fish pond is his own
personal bath tub
(in memory of JoJo)
(Oct 2005 -- April 2007)
now running through the heavens
with his Holli







Links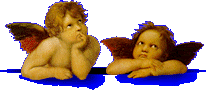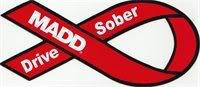 Redheaded Angel



A redheaded angel looked down from the sky
Shaking her head and wondering why.
Don't cry dear loved ones she said with a sigh.
Heaven is beautiful and now I can fly.

I know you were sad when I had to depart
But don't let my passing darken your heart.
Our journey's not over, it's only a start.
We'll all meet in Heaven, never again to be apart,

Heaven is incredible, a wonderful sight.
Did you know there were colors besides black and white?

Days full of sunshine and stars shine at night.
Skies full of angels that have taken to flight.

Please live your life full of joy and not hate
And please keep bitterness from
becoming your fate.
Take comfort in knowing that Holli will wait
Your redheaded angel will be there at the gate.



written by Dianne



She died instantly in an automobile accident.
The driver was the man she was to marry.
He came away with an injured arm and then claimed she was driving.
His blood alcohol level was .19---twice the legal limit.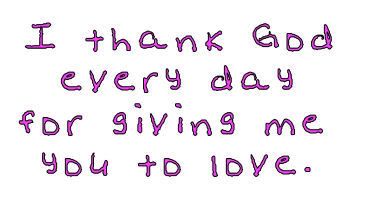 ♥ It was just my time to go.
I see you are still feeling sad,
And the tears just seem to flow.
We all come to earth for our lifetime,
And for some it's not many years
I don't want you to keep crying
You are shedding so many tears.
I haven't really left you
Even though it may seem so.
I have just gone to my heavenly home,
And I'm closer to you than you know.
Just believe that when you say my name
I'm standing next to you,
I know you long to see me,
But there's nothing I can do.
But I'll still send you messages
And hope you understand,
That when your time comes to
"cross over,"
I'll be there to take your hand. ♥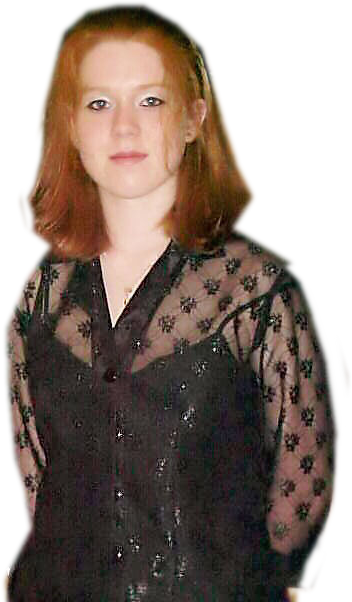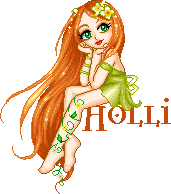 Ask my Mom how she is,
"I'm fine, I'm well, I'm coping."
For Gods sake Mom, just tell the truth
just say your heart is broken.
She'll love me all her life,
I loved her all of mine.
But if you ask her how is she
she'll lie and say she's fine.
I am here in Heaven.
I cannot hug from here.
If she lies to you don't listen,
Hug her and hold her near.
On the day we meet again,
we'll smile and I'll be bold.
I'll say, "You're lucky to get in here, Mom
with all the lies you told!"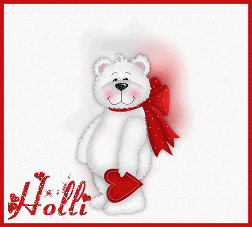 My Broken Heart
It broke my heart to lose you,
But you did not go alone
Part of me went with you,
the day God called you home.
A million times I've thought of you
A million times I've cried
If my love could have saved you
You never would have died
Forgive me Lord, I'll always weep
For the daughter I loved
but could not keep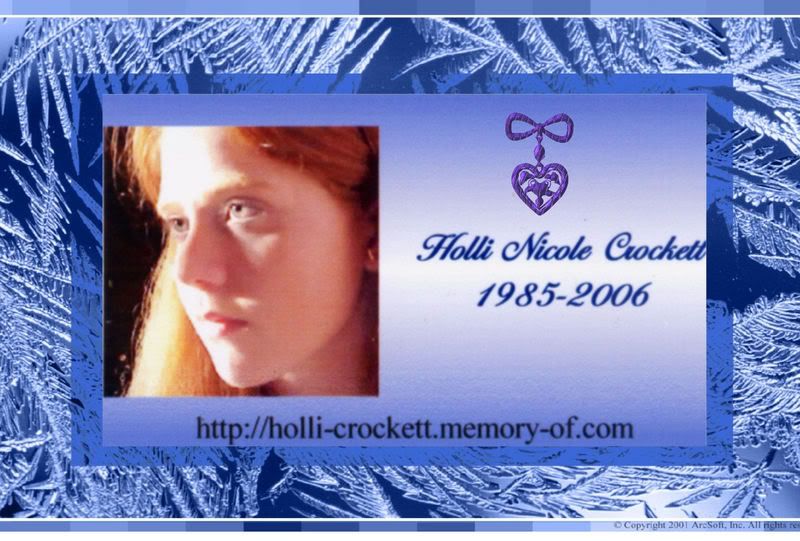 Gift from Megan Allens mom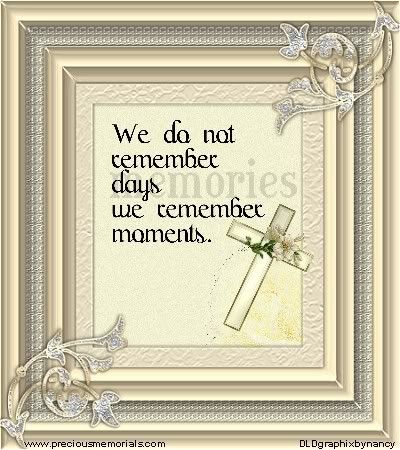 The day my heart died

I was spending the night at my sisters in monroe when I got the call from my husband that the police was there and that our daughter Holli had been killed.

For the longest time I kept saying that phrase "Holli is dead" over and over in my mind, but it just doesn't seem real. How can it be. I had talked to her the day before. She just turned 21 in February. She was moving in to her first home and had a job she loved. She had her whole life ahead of her and now they are telling me she is gone.
I am so heartbroken that I cannot breathe. She was my best friend as well as my daughter. She took care of me as much as I took care of her. I do not know how I am going to face each day without her. I just want to see her and make sure she is ok, but I know that is not possible because she is not ok.

I see this stuff happen every day, but I never never thought it would happen to me.
They say it gets better with time, but I sure cannot see that now. She was my holli waddles, my goofball, My tormentor during the terrible two's. She was the light of my life and now she is my broken heart.

How do I get through this.......... How do I go on without her.
I have always been able to handle anything that has come my way, but this one I can't. This is more than I know what to do with.
She has only been gone a day. I had her for 21 years.
And that just was NOT enough.

Please pray for our family, this is the hardest thing that we have ever had to live with and we need all the prayers you can give.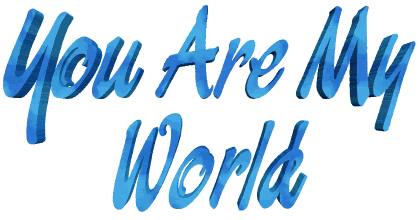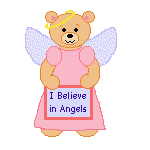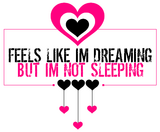 ♥ God made them brother and sister,
but love
made them friends.♥
They were 13 months apart in age.
Holli would always come to me and plead
Daniels case for whatever he wanted to do.
She always talked about him
and was always thinking of things she
was going to gethim when
he got his own place.
I don't know if he knows how much she
loved him but it was alot. They had
normal brother and sister fights but in the
end they could always depend on each other.
I have always been so proud
of both of them.




Went to court today
Current mood: anxious

We went to court today for Jeremy's probation hearing. First of all let me say for the record that we had every intention of standing behind him. I know he did not intentionally hurt holli and I could only imagine what he would be going through knowing he accidentally killed the one person who loved him unconditionally and completely.

We changed our point of view toward him when he started telling people that he was not driving. I know he is trying to stay out of jail, but come on. For once in your life stand up and be a man and admit you made a mistake. For God's sake don't pin it on someone who cannot defend herself. I was so angry when I found out that was what they were saying that I did call his family and tell them that if it was the last thing I do, I would see that he goes to prison. I will not let them put all this blame on Holli.

Anyway, we went to court to see if he was going to get bail or if he was going to have his probation revoked.

To say the least, his parents were very surprised to see us there. They undoubtedly do not know how determined we are to see this thing through. If he does go to prison, I will be at every parole hearing, at every trial. I will never let this rest. I feel like my baby was betrayed by the people that she thought loved her.

When we went into the court room, Jeremy had a big smile on his face but dropped it as soon as he saw us. I think we surprised him too. None of them would even look us in the eyes. They acted like we had done something wrong and that they were victims. All I could do was look at Jeremy in that box and wonder what made him so special that he survived and Holli didn't. I long to see my daughter so bad and all I can see is him. Nothing about this is right.

His parents brought three friends with them. We brought holli's graduation tassel and key. They talked and laughed and would look at their son like everything was going to be ok. They go on with their lives like nothing has happened. We try to just make it through each day without having a nervous breakdown.

I do feel bad for Jeremy. I liked him and when I look at him, I see what Holli loved about him. I know he had the potential to be a good person. He just has never had to take responsibility for anything that he has done and thinks everyone owes him.

Well they postponed the hearing until July 6th. They will try him for the probation violation and vehicular homicide then. He is looking at 20 years in prison. It is such a tragedy that both their lives are ruined because of driving drunk. I do not know why he was behind the wheel. But I do know he did not have to be going that fast. The black box from the car (all new cars now have them) said he was going 82 miles an hour. He never braked and his alcohol level was .19 and the legal limit is .08.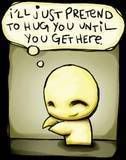 After court we went to look at
the car again and
make sure we got all of her stuff out. Her dad
found the receipt from where she bought him
lunch that saturday. We found the curtains that
she bought for her trailer and a pen with all of
our names on it. That was it. That was the last
of our daughters things. We are making a
scrapbook of all of her things from beginning to
end. We are starting with her birth certificate
and ending with her death certificate. I will put
that receipt in there. Finding that reciept
meant the world to her dad. This last month is
the first time I have ever seen him cry. He sets
outside at the dining table we got for her trailer
in the morning and talks to her. I hope she knew
how much she meant to us.
I really do.


The little mermaid was our favorite video




Don't tell me that you understand
Don't tell me that you know.
Don't tell me that I will survive.
How I will surely grow.
Don't tell me this is just a test,
That I am truly blessed.
That I am chosen for this task,
Apart from all the rest.
Don't come at me with answers
That can only come from me,
Don't tell me how my grief will pass
That I will soon be free.
Don't stand in pious judgment
Of the bounds I must untie.
Don't tell me how to suffer,
And don't tell me how to cry.
My life is filled with selfishness.
My pain is all I see.
But I need you,
I need your love Unconditionally.
Accept me in my ups and downs.
I need someone to share,
Just hold my hand and let me cry,
And say, "My friend, I care."




A FATHER'S GRIEF


It must be very difficult
To be a man in grief
Since "Men don't cry" and "Men are strong"
No tears can bring relief

It must be very difficult
To stand up to the test
And field calls and visitors
So that she can get some rest

They always ask if she's alright
And what shes going through
But seldom take his hand and ask
"My friend, how are you?"

He hears her cry in the night
And thinks his heart will break
He dries her tears and comforts her
But "Stays strong" for her sake

It must be very difficult
To start each day anew
And try to be so very brave
Because he lost his baby too




Went for counseling
Current mood:
tired

We went for counseling tonight with
a very nice preacher.
I think he did help Paul out with a lot of
his questions
but I did not find what I was looking for.
I don't think anyone will be
able to help me deal with my loss except me.
I can go along for a while and do good
and then for some reason
this overwhelming feeling of
loss hits me and I can't breath and can't
stop crying. I just don't want to let go
and accept that I will never see, hug or
kiss her again.
How do you accept something like that?
My mind knows and believes that
she is fine and in heaven and
that there must be a reason
for her to have had to go.
But my heart is screaming
for her to come back to me.
She was so much a part of me
and I don't know how to live without her.
There is not one minute of the day that she
doesn't cross my mind.
I had so hoped that this preacher
would be able to give me this
magical answer to my pain that
would make it go away but I know
I have to do this myself.
I have always thought I was a
strong person but this has just
crushed me and I am fighting to
find my way back.
Just don't know how.



This little Dove of Peace flies from site to site,
please help it make a line around the globe by taking
it to your memorial site, or give it to someone else for
their site. Thank You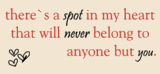 July 06,2006
Today was court day again.
I thought I would be prepared for it but as usual I wasn't. But instead of crying this time I was more angry than anything.
I do not know how to deal with my emotions where Jeremy is concerned. How can I feel so sorry for someone and want to beat the crap out of him at the same time. I really wanted to be able to defend him, I know it was an accident, but he shows no remorse for it. He takes no responsibilty. I so wanted to believe that he really loved her. After all, she gave her life for him.
I watched him in court. He's gained weight, was all smiles and joking around and was wearing a watch. Why the watch bothers me so much, I don't know. Maybe its because it symbolizes that he still has somewhat of a life and Holli doesn't have any life. I just really resented that he was allowed to have a watch.
Anyway, we sat in court from 9:00 until almost 12:30. I learned a long time ago to read lips and I would watch his attorney and I finally saw him tell Jeremy's parents that he wouldn't be seen until 1:30 or 1:45.
So we left. The whole time we were in court, me, Paul, my mother and my sister, Jeremy nor his parents would even look at us. I think I keep hoping to see a little bit of something in them but I see nothing. I just cannot imagine how they could not feel even a little bit guilty about what happened. I feel guilty and I wasn't even there. I constantly think about what if's and what I could of done. Why didn't I call her back? Why didn't I stay home that weekend? Why didn't I fight harder to keep her away from him?
We were back at court around 1:15 and the room was locked. Jeremy's parents were sitting on a bench in the hallway so we stood by a column in front of them. Jeremy's attorney Mike Kelly and the assistant DA Dion ? got off the elevator togther and went into the conference room.
That was not a good sign to me.
I am having a lot of trouble trusting people in the court system.
They came back out and Kelly went up to Kay and Chipper (Jeremy's parents) and told them to come into the conference room, that he was going to tell them about the deal. A whole lot of red flags went up when I heard that. I was so mad. It was like we didn't even matter and if that boy gets out with nothing, I can't even tell you what I would do.
While they were in the conference room, Jeremy and another inmate and the guard get off the elevator and walk right past us. He never even looked. Not more than one foot away and he acts like we are not there. Moments like that is when I could strangle him.
We went into the courtroom and I sat on the side that Jeremy was on. I watched the ADA and was waiting for the moment I could go to him and ask him what was going on.
I think he felt me watching him because he eventually came over and said that I looked out of place and asked who I was. I told him I was Holli's mother and that she was killed riding in the car with him (I pointed at Jeremy). He said "oh yeah, Jeremy, well we are postponing his court today because the state trooper could not show up".
Then Kelly and the parents come back in with smiles. Kelly goes over to Jeremy and starts telling him about the "deal". He notices me watching him and motions for the parents and takes all three of them in the back. Faith Shoemaker comes in (she has helped us out so much, I do not know what I would do without her) and I tell her that some kind of deal is going on and no one will tell me anything.
She goes to the ADA and then they take me to the conference room.
I am then told that they offered Jeremy 20 years. I ask how much of that will he spend and they say that he will have to serve at least 17 years of that. Since it was a violent crime, it is mandatory that he serves 85% of it. And then he will have to serve what ever he gets on the probation revocation. I told him that was fine. That I did not want to ruin that boys life but that I did want him to take responsibility for his actions. I told them that this was not the first time that this has happened, he rolled his truck once before while drinking but that the girl walked away with a sore shoulder and that my daughter didn't walk away at all. I said if he got out is would happen again. That's when I start feeling sorry for Jeremy again. 17 years is such a long time. He just turned 21 and had only been out of jail about 5 months. Such a waste of a life. He was given so many opportunities and he threw them all away. I can't even imagine spending 17 years in prison. He will be around 37 when he gets out. But if he decides to go to trial he's looking at being 60 years old when he gets out.
I then asked about bond. He said they were not going to let him bond out and then asked how I felt about that. I told him that they were supposed to deliver my daughters headstone that day and if they let Jeremy out that I would run over him. I would kill him. I would find him and I would kill him. (Like I said, I was more angrier this day than usual).
He said I didn't have to worry because he wasn't getting out. We then went back to the court room and waited. Kelly did ask for bond but was denied. I think the ADA told the judge we were there because they all moved out of the way (they were up at the bench) and he looked at us.
I do believe that if we weren't there, that he would get out. It really makes a difference if the victims family is there. And we will be there at every hearing this kid gets. Every parole, everything.
We went home. It takes so much out of you emotionally going through this. It's like having to deal with her death all over again.
Then I find out that Jeremy was bragging that he was getting out that day. I bet he was surprised when that didn't happen. So cocky he is.
Then I find out that his parents are still saying that she was possibly driving. When will these people just admit that there son is guilty. My God. This is ridiculous. They had to pull the steering wheel off of his legs. They both were cut out of the seat belts. There is video and affidavits proving that.
I am so glad that I didn't know any of that before court. I would be in jail myself right now because there is no way I could have been in that hallway with his parents without confronting them.
I am tired of defending her against the people that she loved that are putting rumors out about her. She doesn't deserve any of that. She stood by their son each time he was put in jail, even when he rolled the truck with the other girl in it. She even got arrested because she wouldn't admit to the police that he stole the safe from the Good Times Grill. So they arrested her for accessory. The officer told her to just tell them what he did, but noooo, she wouldn't do it and so we spend the rest of the year paying off a fine. She was even paying his probation officer the money he owed each month from this last theft charge. So how can they still be telling that she was driving. What kind of idiots are these people. Do they even have a heart.
I regret that Holli never had any children, but I thank God she didn't have any with this family cus I would be fighting the rest of my life to just be able to see the kid.
Anyway, that's what my court day with the
west's family was like. And then my headstone
did not get put out so that day was shot all the
way around.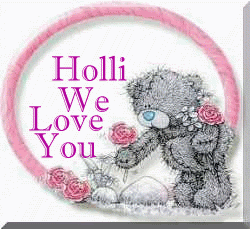 ♥ A Child that loses a parent is an orphan,
A Man who loses his wife is a widower,
A Woman who loses her husband is a widow,
There is no name for a parent that loses a child,
For there is no word to describe the pain. ♥




This was the last picture taken of Holli---
I found a disposable camera in the car and had it
developed and this was on it.



We not only mourn for the loss of our daughter,
but also for the children she will never have.
She was looking forward to
starting a family. She used to joke that she would
not have to buy anything because I already
had it all and she would
come over and clean house
and joke that she was paying
for her babysitting services in advance.
She already had names picked out.
Whenever I buy something new
for the kids that I keep,
I think of her and have to fight the tears.
Everything in my daily life reminds me of her.
Everything.




My dearest Holli,
By now you know that we had
to put our girl Roxie
to sleep.
She had gotten so bad that
she could no longer walk and
we could not stand to see
her suffer any longer.

I know you are rocking her and keeping her safe.
Don't laugh about her haircut, Amanda and I did the
best we could and she seemed to like it.
I have gotten her a solar light
just like yours and will put it where
she is laid to rest. I also got an angel and a
heather plant for her.

We will miss her dearly
but know that she is safe with you.
Give her big kisses from
us and we will see you both soon.
We love and miss you Holli
and dream of you every day.





~~~~~~~~~~~~~~~~~~~~~~~~~
Holli, be sure to take care of stitch also.
He had to leave yesterday to join you and Roxie.
He's still a pup and needs lots of exercise.
Don't let Roxie scare him to much. You know how she is.
Give him a big hug from his mom and dad.
They miss him so much.




~~~~~~~~~~~~~~~~~~~~~~~~~~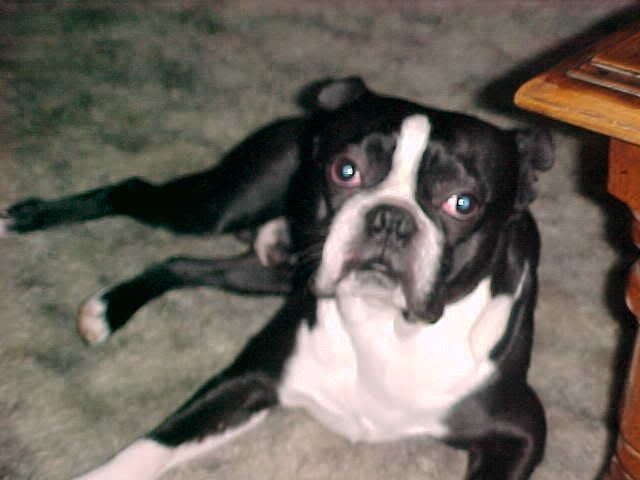 It is with a heavy heart dear Holli that I have to tell you about your babies.
I know you have them both with you, giving them big bear hugs.

The last day of April, I walked out of my house just in time to see JoJo get hit by a truck. I got him to the ditch and told him everything would be ok.
He looked at me with those big sad eyes. He knew. He knew what I didn't. What I didn't want to know. He was leaving me and I couldn't do anything about it.
I ran into the house to call your mamaw to come sit with the kids so that i could take him to the vet. I ran back out to him just in time for him to take his last breaths. My heart was broken yet again. It was devastating.

I can only thank God that I had gotten the kids inside before he got hit. They now know he is running around heaven with you.
They miss him so.
The next morning......Clyde was having trouble swallowing. I took him to see Doc as soon as he opened just to be told that he was in heart failure and it was time to put him down. We knew this day was coming but it was still like a knife in the heart to be told that. I held his head in my hands, stroked his ears and told him he was such a good boy. I then took him home and buried him next to JoJo. My house is so quiet without my boys. You wouldn't think my heart could keep breaking
but it just never seems to stop.
JoJo died the same month as you Holli. He couldn't let your one year go by without joining you. And clyde....well you know he wasn't going to let JoJo go somewhere without him. There was always competition between them.
CJ is so lost without his brothers. He just doesn't understand.
You now have your babies with you my beautiful daughter.
Give them big hugs and kisses from me.
I miss you all so much. Heaven is filling up with my angels :(
love mom


JoJo--Clyde--CJ--Shyla

~~~~~~~~~~~~~~~~~~~~~~~~~~


Rest in Peace Mr. Bill

By now Holli you know that Bill has joined you in Heaven. I cannot believe he is gone. We thought he had a cold and one morning we woke up and he was sitting on the bottom of his cage. I grabed him up immediately and rushed him to the vet. He was so weak. He tried to bite like always but didn't have much strength so I was able to hold him close to my heart all the way to the vets.
All these years that I have had him, I have always wanted to hold him close and on the most heartbreaking of days, I was able to.
The doctor found a tumor in his stomach and said it was what was making him sick. There wasn't anything that could be done for him. We had to put him to sleep. We brought him home and Daddy buried him between the azalea bushes. I got to hold him Holli, can you believe that. I will never forget that feeling.
Take care of him for me and all my other little babies. I love you all and miss you all with all of my heart.
----------------------------------------------------
My Rusti joined Holli on monday sept 22, 2008. She was 15 years old. We have had her since daniel was in 2nd grade. She was a fiesty mix breed that loved to bomb other dogs. She always took her frustrations out on something of mine. Shoes, my sewing box and even chewed out the arm of the chair I always sat in.
That was only because I had to discipline her since her daddy didn't have the heart to. That was his little girl till the very end. She still had alot of spunk in her, still hated CJ (the boston terrier) and would chase him out the back door every chance she got.
She had a tumor on her back and her hip. Those weren't bothering her to much, but the pain in her hips had gotten worse. Then we started noticing that everytime she went to sleep she woke up covered in pee. I took her to the vet and found out she now had a tumor in her stomach. She had been eating good but lately we were only able to get to handfuls down her in a 24 hour period.
I knew it was time. My mind said I was doing this for her but my heart felt like I was letting her down. This by far was the hardest one I have ever had to do.
I held her close to me all the way home telling her over and over again that I was so sorry. I wanted to go back and undo what I did. To just pretend that she was going to be fine. I knew it would be prolonging her pain, but I felt like I had let her down. I wanted so bad for her to pass on her on in her sleep. I never wanted to have to do this to her. I am still haunted by that day.
I think her spirit is still in the house, because she had a bed under the computer desk and all the dogs would try to get in it before she did and now none of them will go near it. It just lays there empty. It is so strange.

I know holli was excited to see rusti. She has so much company up there with her now. She has Roxie, Jojo, Angel, Salem, Stich, Bill, Clyde and rusti.

Rest in peace my dear rusti and all my babies. I miss each and every one of you so much.
-----------------------------------------
The Last Battle

If it should be that I grow frail and weak
And pain should keep me from my sleep,
Then will you do what must be done,
For this -- the last battle -- can't be won.
You will be sad I understand,
But don't let grief then stay your hand,
For on this day, more than the rest,
Your love and friendship must stand the test.
We have had so many happy years,
You wouldn't want me to suffer so.
When the time comes, please, let me go.
Take me to where to my needs they'll tend,
Only, stay with me till the end
And hold me firm and speak to me
Until my eyes no longer see.
I know in time you will agree
It is a kindness you do to me.
Although my tail its last has waved,
From pain and suffering I have been saved.
Don't grieve that it must be you
Who has to decide this thing to do;
We've been so close -- we two -- these years,
Don't let your heart hold any tears.

-- Unknown





9 years old

On the day God took you
I thought that I would die
I wondered where the time went?
I asked alot of whys??
With people all around me
I felt alone inside
From all their words of comfort,
I couldn't seem to hide, I thought I might be dreaming
That I'd wake and find you here,
I thought "This can't be happening."
As I wiped another tear.
On the day that you were laid to rest
My heart broke yet again,
I wondered if the pain would end,
But mostly, I wondered when??
It's hard to be without you,
At times the days seem long,
Sometimes I just sit crying,
When there's really nothing wrong.
I wish we'd had more time,
Before your life was done.
I hope your resting peacefully,
My precious child,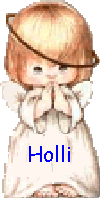 I Did Not Die
Do not stand at my grave and forever weep.
I am not there; I do not sleep.
I am a thousand winds that blow.
I am the diamond glints on snow.
I am the sunlight on ripened grain.
I am the gentle autumn's rain.
When you awaken in the morning's hush
I am the swift uplifting rush
Of quiet birds in circled flight.
I am the soft stars that shine at night.
Do not stand at my grave and forever cry.
I am not there.





It's finally over

July 31, 2006 --- Last day in court

I have looked forward and dreaded this day for so long.

We showed up at 9:00, My mother, Paul and me.
I brought my statement that I would be reading
and the picture of Holli that we put on her headstone.
We were soon joined by Mrs. Ann Shocklee from
MADD(Mothers Against Drunk Drivers).
We waited all morning just to hear that our case
would be postponed
until after lunch.
It seems like this thing will
never end for us.
We come back at 2:00, my mom, me and Mrs. Shocklee, Paul
had to go to work, and we were joined by
Faith Shoemaker of the DA's victim unit.

Before I get to the trial, let me tell you this.
I found out last week that Jeremy got baptised in May while in Jail.
I remember when I found the Lord and was baptised.
I remember the change I felt.
I remember.
I cannot believe that it was real for him,
because he is still the same Jeremy that
I have always known. He sat in that inmate box and gave
me the meanest looks.
One of his buddies who was up there for
court sat behind his parents
and also kept staring at me.
If he was truly a saved man, he would
not be acting like that.
I just want him to acknowledge that he did this.
To take responsibility for taking her away from us.
I want to hear him at least say he was
sorry or show some remorse.
I hate knowing my daughter loved him
so much and he cared so little
for her.

Ok, we wait all day and we are the next to the
last to be heard in court.
The assistant DA, Dion Young comes and tells us
that he has taken the plea of 20 years. I ask him,"so
that does mean he will serve 18 years right?"
He said, "well it's more l
ike 16 and a half but yeah, he will serve that."
So the judge asks Jeremy if he understands that
he is admitting guilt
and is going to be sentenced to 20 years.
He says yes.
He then asks me if I agreed to this plea bargin,
which I say yes,
but of course I thought he would be in jail
for 16 years and be
sent away from here to a prison, (which was wrong!)
after all of that, he asked if I was going to
make a statement which
I said yes.
He asked Jeremy if he knew me and he said yes.
He asked Jeremy if he knew what I was going
to say and he said no.

So all of this time, Jeremy still has not said, "I was driving".
He kept going around those words as
much as possible by
just saying that
he was pleading guilty.

I get up to make my statement.
The judge asks me what is in my hands, I show
him Holli's picture
and he asks if I want it put in the file. I said sure.
I have done good all day, Have not cried once.
I get up to make my statement and don't get
through the first sentence before I lose all
control.
This was my statement:

Holli was the first granddaughter, the first
one to graduate high school,
the first one to go to college and now
she is the first one to die.

Holli was not only my daughter but my best friend.
She drove me crazy
at times but in the end she was always there for me and
she knew I would always be there for her.
I have never pictured my life without her.
I never thought I would have to.

She was going to be there to help me when
the time comes that my parents were to pass
away~she always knew just what I needed to
hear and could make me feel better. I was to
be there for her wedding
to kiss her, to hug her and to tell her how
beautiful she is. She would
talk me through my scares with cancer and tell
me everything would be alright. I was to be
there when she had her children to tell her how
good she did and how proud I was of her.
She listened to me gripe
about stuff and let me get all my frustrations out
and then she knew I would feel better. I listened to
her laugh about how much stuff costs
when she had to use her money and it didn't seem to
cost that much when she used mine.
She always told me she loved me before she
hung up the phone, and would always kiss me
before she left me. She tried to bring everyone
together in her life and in her death she did.
She would be so proud of how everybody pulled together
and were there for each other. When I sit on the bench
at her grave, I can feelher sitting next to me.
She had so much life in her that I cannot believe it
was taken away.
How do I live without her? How do I face each
day knowing she is not here?

I still call her cell phone and listen to her voice
and then leave a message telling her I love her
even though I know she won't get the message.

I wake up in the morning and know that she is not
coming by to see me. I know that she will not be
here to kiss me goodnight nor can I kiss her.
When I have a bad day, I cannot pick up the
phone and call her and
have her tell me that everything will be ok.
I count down the days that it has been since
I saw her last. I try to remember our last conversation. I try to remember.....but the hurt
stands in the way.

I thought when Jeremy got out of jail this time that
things were going to be ok. If he got into trouble,
then he would go away for 17 years
and she could go on with her life. If he didn't get in trouble
again, then great, he would finally be growing
up and make her a good husband.
Never in my life did I even think he would be
responsible for her death.

I had every intention of standing behind
Jeremy through whatever
was to come his way from this accident.
He made a big mistake that cost Holli her life and
I couldn't even imagine what I would feel like if
I was responsible for the death of the one I love.
But I soon learned that while I was burying my daughter,
Jeremy was blaming her for the wreck. He says she was driving.

Jeremy has never had to take responsibility
for any of his actions.
He has always gotten out of trouble and has
never had pay for what he has done.

Well, there are no do-overs here Jeremy.
You cannot take that night back. It is time you stand up like
a man and take responsibility for taking Holli away from us.
It is time for you to pay for your actions.
We visit her at her grave every day. We look at her
picture on her headstone and wonder why this had to
happen to her.
No matter what happens to you Jeremy, your parents
still have you.
Your parents can still see you, talk to you, hug you
and can still be there for the important things in your l
ife like your baptism.
We will never have that again with Holli.
We will never have anything again with Holli.

Our hearts are broken
and our lives will never be the same without her.






Now the judge asks the DA what proof
they have that Jeremy was driving.
The DA says that they have a video and 10 policeman
and 10 fireman who were there.
I told the judge that I called the family and asked
why they were saying she was driving and they told me
it was because his seatbelt bruise
was going in the wrong direction and that her feet were under
the steering wheel too.
I told the judge that the reason her legs was
under the steering wheel was because the car
was on its side and she was on top and he broke
her in half.
I think I was screaming about that time because
he told me to calm down.
He then looked at jeremy and asked him if
he understood that he was driving.
Jeremy said, "I do now".
He finally admitted it, never apologized
but he finally had to admit it.
The judge then asks Jeremy if he still had his drug problem
and he said yes. So the judge sets him up for
rehab and tells him that one day
he will get out and he didn't want that monkey on his back.
I was hoping he would tell him that one day
he will get out and
have his life back but to remember that he
caused her death
because he CHOSE to drink and drive.
But no, not Judge Carl Sharp, he felt sorry for jeremy.
He then told him that he was sentenced to 20 years and then
12 + 5 years for probation violation to run concurrent.
Then he tells him that he only has to serve
5 years of that before he is allowed parole.
5 YEARS.........thats a far cry from 16 years, don't ya think.
And then he is sent to the Collinston Detention Center.
That don't look like an out of town prison to me.
It seems you can't trust anybody to tell you the truth up there.
But thats ok. He will come up for parole and
I will be there everytime.
I will make sure he never forgets what he did.
I will make sure the courts remember what he did.
I will be there everytime until I die.
5 Years........I can handle that. That is at least something.

I actually felt at peace when I left the courthouse.
I felt like Holli knew it was over.
I had done everything I could for her and that she could
go on now and rest in peace.
I went home and cried all day and then I let her go.
She will always be with me, but I can no
longer hold her here with
me when she has a better place to go.
I had to finally say goodbye.
That was the hardest thing I ever had to do.
I gave her to the Lord and told him to take care of her.

It was finally over.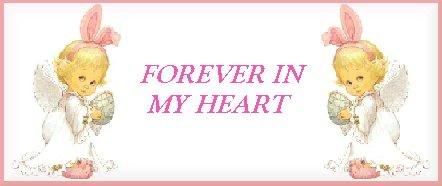 Goodbye my Holli Waddles

Since the day we laid you to rest, I have tried to let you go.
I have tried to say good-bye to by beautiful baby girl.
But how do I let you go?
I wanted you for so long and thought you
would always be here with me.
So how can I let you go now?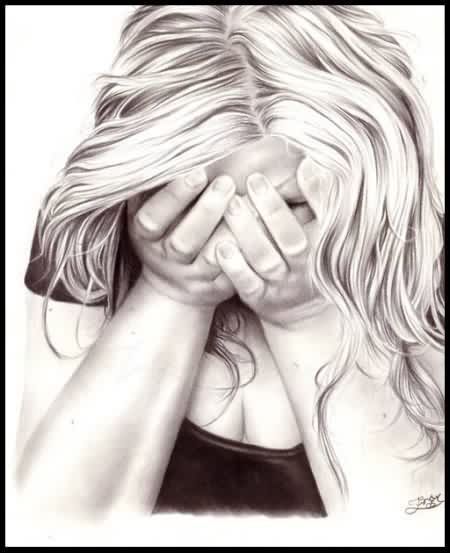 I never realize how much I depended on you or
how much I needed you until you were gone.
You started my mornings with me and you ended
my nights with me. You are the one I turned to.
You are my only daughter,
my bestest friend,
my sun and my stars.





You are everything to me and I don't want to let you go.
I would trade places with you in a heart beat holli.
I never ever saw my life without you.
I wish I could be stronger for you and
I wish my faith was stronger for me.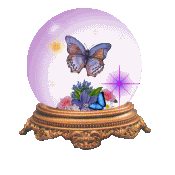 I know you are in a better place and
I would never take your paradise
away from you. It is my selfishness I know that is
keeping you here and I cannot do that to you anymore.
I sometimes feel your pain in
knowing how much we hurt. We will always miss you
baby and the love we feel for you is so deep that it is in
every breath we take. We see your beautiful smile with
every beat of our hearts. We feel the pain of your passing
every day. It has been a very sad time for us and I know it is
hurting you so we have no choice but to stop. I will not let your
memory be a bad thing. I want to smile when I think about you
and I want to talk about you with all the pride
that I feel for you and not with tears as
I mourn for you.




I will celebrate your earth birthday and I will
celebrate your Angel
birthday. I will remember you on every holiday
and make sure that we celebrate it the way you would want us to.
You brought smiles to us and
we will give them back to you.
You will be our inspiration Holli Wally.
We will spread your love around and we will live in your honor.
I will never let the kids forget you and they
will always know how much you love them. They will always know about the red headed girl that rocked them and
played with them. They will know that you are
watching them and taking
joy in all their achievements.
That is my promise to you.




I will never let anyone forget that I have TWO children.
I am proud that
I am your mother and that God
gave me the chance to be your mother.







I had you for 21 wonderful but short years.
I will cherish that time
with you and will dream of the day
I can hold you again.
Your life on earth has meant more to your family
and friends than you
could ever imagine. You really touched alot of lives
Holli and I hope you know that.




I want you to be happy and enjoy
what you have earned. I want you to
be at peace. I don't want you to worry about us anymore.
You never could stand to see anybody cry or
hurt and I know this is bothering you.
I can feel your pain.





I will have bad moments holli and you
will have to help me through them.
You will have to be my strength
and show me the way.
I will live for you Holli and
I will always love and miss you........
but I will have to let you go.


You have done good my beautiful baby
and we are so very proud of you.
You were our earth angel and now you are our heavenly angel.
Spread your beautiful new wings and fly baby.
Fly as far as you can and be happy.


I love you girl,
I always will,
Mom

p.s now about your dog.........




Transcript of last court date

page 1 page 2 page 3 page 4
page 5 page 6

page 7 page 8 page 9 page 10
page 11 page 12

page 13 page 14 page 15 page 16 page 17 page 18

page 19 page 20 page 21 page 22 page 23 page 24


I also wrote Jeremy a letter telling him that I knew that it was an accident and that I know he wouldn't do anything to hurt Holli. I told him that I had every intention of backing him up until I found out he was blaming her for the accident.

This is his letter back to me.............


page 1 page 2 page 3 page 4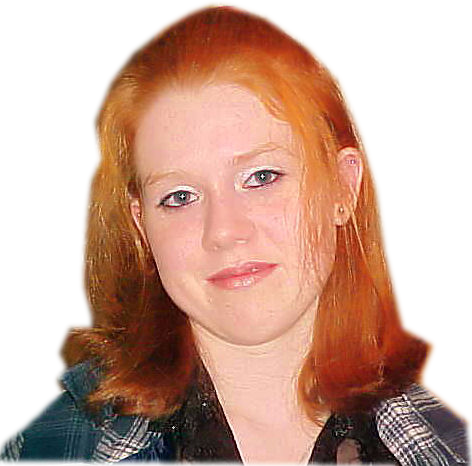 Holli finally had her first birthday in heaven.
She turned twenty-two.
This was probably the best birthday for her,
being able to spend it with our Lord,
But all I could do was cry.


The kids that I take care of ate a cookie cake with her name on it for her birthday. I would say they drank the juice boxes but they pretty much ended up just
another toy on the floor.
They played with Holli's birthday balloons when they were
Through eating and then danced to some music.
I know Holli was having a good laugh.


My Dallas family also gave Holli a birthday party Friday morning early, to early for Bobbie I heard, but still they got up, ate an eclair with a candle in it and released some balloons.
I love my family :)


We did not get to go see Holli until
the day after her birthday.
Daniel and Amanda had already been there.
They left a miniature rose bush, a vase with two roses and a bear and some hearts in it.
They also left a candle and a card.
I had to cry. I know she loved it.


My mother left holli two miniature rose bushes. She had no idea about the one from Amanda and daniel.
She also left a heart shaped flower stand,
two balloons and a wine glass full of blue marbles.
We just figured she had all her marbles back so we would give her some pretty ones.
I fixed a note box. I have put the most beautiful picture of Holli in it. It was made by some wonderful people her on the Internet and I just love it. I also put one of her cards with her website on it (which was also made by an angel on here) and a little notebook with a cross. I put it there so that I could write her a note when I come to visit and I hope others will too.


This has been the longest nightmare for us as it is for any family that has lost a loved one.


April 9th is coming up so fast. It's hard to believe it's almost been a year since she got her wings.





Please visit
Holli's Angel friends
and light a candle
in their memory.



An eternal flame in memory of
all of our angels.


Megan Lynn Allen

Kayleigh Siobhan Erceg

Haleigh Rae Powell

Katie Cassidy

Pamela Bland

James "Kyle" Berry

Justin Barmore

Matthew Gramlich

Jimmy Brozzetti

Craig William Sehon

Bryan Story

Andrew Christian Surace

Ariauna Markee Jones

Ashley Carro

Billy Kayser

Billy Lantz

Bobbi Jo Sisk Jones

Bobby (Bobbo) Flynn

Bradley Taylor Thornton

Chrissie Carrigan

Colby Lee Ivey

Dale Allen Fournier

Deborah Pollock

Derek James Geibe

Dustin Ellis

Dustin Hamilton

Dustin Lee Fitzer

Dustin Hooten

Elizabeth Kathleen Haher

Emily Jeanette Garcia

Grant Lewis

Hayes Kent

Jakob Nelson Andriacchi

Jamie Gillis

Jason Ramirez

Jessica McMullen

Joey Scarpa

Ken McCurdy

Kenneth Lanier Akins II

Kerri Schulz-Clench

Kevin V. Persaud

Laurie MIchelle Baer

Lisa Fernandez

Lisa Holdgrafer

Melissa (Lissabee) Andersen

Michael D. Carico II

Mitchel Daniel Henneberry- Robar

Natalie Turner

Rebecca Lynn Fitzer-Groves

Robbie Gillis

Robert Hampton Smith (Robbie)

Ryan DeAndrea

Shane Short

Steven Patrick Miller

Tiffany Sharee Vance

Tyler Wade Head

Zachery Tyler Gibson

Earl Danz



If you would like your loved one added to Holli's friends list
just email me here and I will add you




They say there is a reason,
They say that time will heal,
But neither time nor reason,
will change the way we feel.
For no-one knows the heartcahe,
That lies behind our smiles,
No-one knows how many times,
we have broken down and cried.
We want to tell you something,
so there isn't any doubt,
You're so wonderful to think of,
But so hard to be without.



Also be sure to visit




Jeanne's House of Angels
a wonderful caring site
that is close to my heart




If Roses grow in Heaven

If Roses grow in Heaven,
Lord please pick a bunch for me,
Place them in my Daughter's arms
and tell her they're from me.

Tell her I love her and miss her,
and when she turns to smile,
place a kiss upon her cheek
and hold her for awhile.

Because remembering her is easy,
I do it every day,
but there's an ache within my heart
that will never go away.





NOTE:

Thank you
for visiting Holli's page and lighting
candles for her. We really appreciate it.
It means so much to us.




This page is always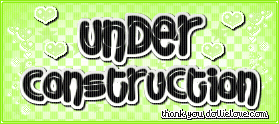 I will be updating it alot so
please come back and visit.
Also.....
If I am using your graphic and you do not want me
to, please let me know.
I do not mean to use something that is not meant
to be used and completely understand if you would
like it removed.
Feel free to use whatever graphic on here that you need to. I understand completely how hard it is to find just the right thing so if you need it, then use it :)






Doing this page has helped keep me connected
to holli and it gives me a way to talk to her and let
her know how much I love and miss her. I imagine
her sitting next to me and helping me pick out each thing and also this is pretty much all that I can do for her now.







*I never knew my heart
could still beat when it feels so broken*


If we could have one lifetime wish,
One dream that would come true..
We would pray to God with all our hearts
for yesterday and you.